"The Color Inside," one of artist James Turrell's Skyspaces, offers a quiet escape in the middle of The University of Texas at Austin's bustling campus.
Every evening, people ascend to the rooftop of the Student Activity Center and enter a small oval room. They spread out, lean back and look up into an oval opening in the roof. As the sun begins to set, an automated light sequence begins. Colors splash across the white ceiling, framing the natural sky visible through the oculus.
These artificial colors alter how the sky appears. As described by Lynn Herbert, a former senior curator at the Contemporary Arts Museum in Houston, the changing hues "allow us to see the sky as we have never seen it before."
Turrell wants to play with audience members' perceptions, and he knows that each individual will have a different experience with the piece.
"My work is more about your seeing than it is about my seeing, although it is a product of my seeing," Turrell says.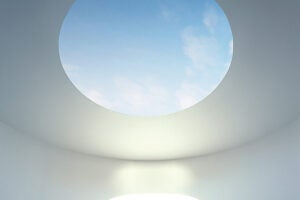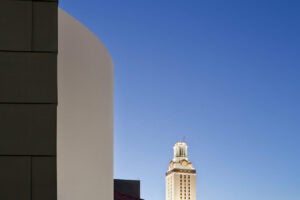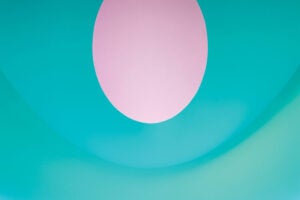 The space is carefully designed to draw the audience's eyes upward. The bottom half of the oval room's walls are painted black, and the rest of the surfaces are a brilliant white. When visitors lean back in their seats, their fields of vision are framed by the white ceiling surrounding the oculus. Turrell says he hopes the room will leave an impression.
"I'm also interested in the sense of presence of space; that is, space where you feel a presence, almost an entity — that physical feeling and power that space can give," Turrell says.
"The Color Inside" was commissioned with students in mind. As UT was designing the Student Activity Center, the administration surveyed students about their wishes for the new building. They wanted a place for quiet reflection.
Turrell's work provides that space, and visitors can access it throughout the day. For most of the day it functions as a peaceful retreat, but every evening it offers an immersive artistic experience.
The piece is available to the public; anyone can make a reservation to enjoy the daily sunset light sequence at turrell.utexas.edu.