This month Oscar Cásares, an associate professor in the Department of English and Center for Mexican American Studies, publishes "Where We Come From," his second novel and third book.
Cásares says his success has surprised him. Growing up in South Texas, he never imagined becoming a writer.
"I had grown up around all these storytellers, but I didn't grow up around books," he says. "So, the idea of becoming a writer was really very foreign to me."
Cásares has taught at UT for almost 15 years, helping students craft their fiction writing while he works on his own.
A UT alumnus, Cásares studied advertising and went on to work at GSD&M, the advertising agency known for its "Don't Mess with Texas" campaign. He was perfectly happy at his job, but he kept telling stories.
"I would tell stories about where I grew up on the border. Didn't matter where I was. I'd always sort of bring up a story and people would always ask, 'Well, are you going to write these down?' I would always say, 'Eh, I'm not a writer. I'm just a storyteller. Don't get them confused.'"
Once Cásares started writing down the stories, he never stopped. He began writing as often as he could, and he says the process started to "take over his life" to the point where he was writing at 5 in the morning and late into the night, in airports, hotels, coffee shops and practically everywhere he went. Five months after completing his first short story, he quit his ad agency job. He then left Texas to complete an MFA at the prestigious Iowa Writers' Workshop, then moved back with his eyes set on UT.
"I thought, 'Wouldn't it be great to (work at) UT, where I started?' " he says. Soon after returning to Texas, he landed his first book deal. In 2004, just after that book was published, he was offered a position as an associate professor of English and creative writing at UT.
"Where We Come From," his previous novel "Amigoland" and his short-story collection "Brownsville" all explore Cásares' South Texas roots. He uses his childhood and familial experiences growing up on the border as inspiration.
"Where We Come From" tells the story of Orly, a 12-year-old raised in the United States, and his godmother, whom he visits on the border in Brownsville. Orly begins to uncover family secrets, specifically his godmother's involvement in a border smuggling ring, forcing him to confront new realities about his own identity and how he fits into the broader world.
Cásares wanted to explore what happens when young people first venture out of their childhood surroundings.
"You leave this sort of cocoon of your home, your town, what you thought was your world," he says. "You meet people, you read things, you hear things, you begin to change in certain ways, and yet you're connected to the place that you grew up. And how do you get back there?"
The story touches on several timely themes around border security and immigration policy, which Cásares notes came up fairly organically throughout his writing process. He wants to provide a closer look into the aspects of humanity that he believes narratives around these issues don't often explore.
"At the end of the day, we're human," he says. "The stories coming from the border right now are horrific. They're not accurate depictions of what life is … we don't see the families, we don't see the people, we don't see the struggles of what they're going through. And that, to me, feels like we're missing the picture and that humanity."
Cásares will launch a book tour at BookPeople in Austin on May 21.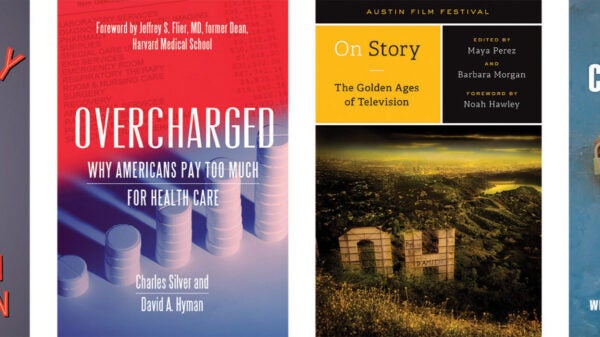 OTHER WORKS
Notable publications by staff and faculty members
Bowlaway
By Elizabeth McCracken
Family drama, oddball characters and the New England pastime of candlepin bowling combine in this witty novel set in the 20th century. Elizabeth McCracken is the James Michener Chair for Fiction at the James A. Michener Center for Writers.
Overcharged: Why Americans Pay Too Much For Health Care
By Charles Silver and David Hyman
This book looks at the factors behind the costly health care system in the U.S. and also proposes solutions for making health care more efficient and more favorable for consumers. Charles Silver holds the Roy W. and Eugenia C. McDonald Endowed Chair
in Civil Procedure at the School of Law.
On Story — The Golden Ages of Television
Edited by Maya Perez and Barbara Morgan
Award-winning television writers and creators, including Carl Reiner, Vince Gilligan, Marta Kauffman and more, discuss the evolution of TV in these interviews from the PBS series "On Story," a project of the Austin Film Festival. Maya Perez is a lecturer in the Department of Radio-Television-Film.
Confronting Underground Justice: Reinventing Plea Bargaining for Effective Criminal Justice Reform
By William R. Kelly with Robert Pitman
Plea deals are prevalent in the criminal justice system; the authors examine how these negotiations adversely affect some of the most vulnerable members of society. Dr. William R. Kelly is a professor in the Department of Sociology and director of the Center for Criminology and Criminal Justice Research.
Recommend a book at pitch@texasconnect.utexas.edu.