A quick search of #ProtectTexasTogether on Twitter brings up hundreds of images of University of Texas students, staff and faculty members and alumni, all wearing face masks of different colors and designs and making the "Hook 'em Horns" hand gesture. These posts — which feature UT men's tennis players, Steve Hicks School of Social Work employees and President Jay Hartzell, among others — were part of an initiative during the first week of fall classes to raise awareness for Protect Texas Together, a message that UT students and staff and faculty members must work together this fall to protect one another.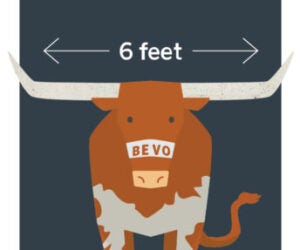 "In order for all of us to stay safe, and in order for the campus to stay open, there's important things we need to do to protect ourselves and each other and our community, and it only works if we all do it together," says Jay Bernhardt, dean of the Moody College of Communication. 
Protect Texas Together also describes the overall effort of the university's different areas and components to respond to the pandemic, Bernhardt says. Bernhardt, who was the director of the National Center for Health Marketing at the Centers for Disease Control and Prevention from 2005 to 2010, serves on Hartzell's COVID-19 executive committee to help with this response.
"Protect Texas Together is about hundreds, maybe even thousands of people working together nonstop since spring of 2020 through the present to think about, analyze and prepare for every possible option that we might face, and come up with strategies to keep campus safe while we continue to achieve our mission of teaching students and conducting research and serving our community," he says.
Though Protect Texas Together efforts started as early as March, the actual phrase wasn't developed until the summer, after UT's Center for Health Communication (CHC) conducted research that paved the way to the concept's branding, Bernhardt says.
Mike Mackert, the CHC's director, says the center was drafted in early-to-mid June to host 18 focus groups with UT faculty members, staff members and students to ask what messages would be most effective coming from the university surrounding the pandemic. The CHC's work was meant to develop key guidance and principles of better health communication around COVID-19 that could be pushed out to individuals handling communication for colleges, departments and centers on campus, he says.
Mackert says the focus groups disliked some messages, such as a competitive one involving social distancing better than a rival university.
"People wanted nothing to do with that," Mackert says. "It's not just like, 'We're in it together at UT.' It's like, 'We're in it together as a country.'" 
Another idea that proved unpopular — UT's beloved mascot, Bevo, with a mask on, and the catchphrase "Protect the Herd."
"Number one, people did not like seeing Bevo in a mask. It seemed very artificial," Bernhardt says. "Number two, 'Protect the Herd' was not a phrase that resonated very well. People were very proud of our mascot and the Longhorns, but people don't really like to consider ourselves a herd."
While people in the focus groups provided advice on what messages UT should avoid, they also articulated how much they were motivated by protecting others, a concept that would tie into Protect Texas Together, Mackert says.
The CHC didn't work alone. University Communications' marketing team, led by Robin Meeks, developed messaging guidelines and visuals to support the center's findings. That material was shared across the university to support a consistent message, and their work can be seen in signs around campus as well as on social media and the Protect Texas Together website and app.
The findings also are built into the Commitment To Protect Texas Together, a voluntary commitment to check for COVID-19 symptoms daily, follow campus signage and policies, and avoid gatherings with more than 10 people when it's not possible to social distance, among other steps.
Bernhardt says UT is lucky to be able to draw on its health communication scholarship and conduct communication research to help inform Protect Texas Together efforts. He stresses that he and Mackert were only two people who contributed to communication efforts during Protect Texas Together. Also playing crucial roles, he says, were Meeks; Susan Hochman, associate director of assessment, communication and data informatics for University Health Services and the Counseling and Mental Health Center; postdoctoral fellow Billy Hoffman; and CHC deputy director Jessica Hughes Wagner and graphic designer Nicole Kirschten. Meeks' team includes Jennifer Singer, Christine Yang, Susanne Bynum, Kevin Rathge, Ryan Goeller, Hillary Berquist, Leroy Rosales, Charles Leverington, Rebecca Salazar and Thomas Swafford. And within University Communications, there was team collaboration, with the efforts being supported by project managers Kat Lyon and Laurie O'Meara.
Although there's much related to the pandemic that can't be controlled or predicted, almost all the things that can be controlled — recommending behaviors, taking steps toward prevention, getting tested — require excellent communication in order to be effective, and that's been a big part of UT's response, Bernhardt says. As the pandemic continues, the Protect Texas Together message is meant to continue promoting safety and uniting the UT community.
"That is our hashtag, and that is our rallying cry, and that is our motto, and that's also our message, which is that we're all in this together," Bernhardt says.