Senior landscape technician Johnny Lee was frustrated. He worried about the excess carbon emissions he created each day as he attempted to operate his landscape equipment around the mass of students walking on Speedway. 
He then envisioned maneuvering around them on an electric cargo bike to increase work productivity and decrease his carbon footprint. 
An idea of efficiency expanded into a sustainable movement.  
In December 2018, Lee applied for a Green Fund grant, requesting $12,732 to transition University of Texas Landscape Services equipment from gas-powered to battery-powered. Lee's project sought to reduce noise pollution, carbon dioxide emissions and the overall costs of landscaping equipment. 
The Green Fund is a competitive grant program created to support sustainability-
related projects and initiatives proposed by university students, faculty or staff, program coordinator Jill Parrish says. 
Lee, a UT alumnus, says the application process was a team effort. He says he was inspired by former UT bike coordinator Jeremy Hernandez, who helped the Zero Waste Program obtain an electric bike to perform trash audits across campus. Parrish helped develop Lee's sustainability efforts by suggesting his proposal would be stronger if he could use data to demonstrate the potential environmental impact and by introducing him to a team of McCombs Business School graduate students looking for a project idea.
He worked with those six students in professor John Doggett's management sustainability class to create a cost-benefit analysis of switching.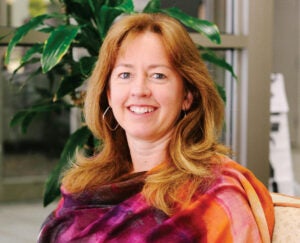 "The Green Fund really looks for projects that are collaborative in nature," Parrish says. "I'm always looking for ways to connect people that I know have similar interests and may be able to support each other's efforts. … So connecting the operation staff with students (was) really exciting."
Lee was awarded the grant in 2019 and began implementing his innovative campus landscaping project. He has biked about 2,500 miles over 22 months, he says, saving $8,297 on equipment and fuel and eliminating his carbon footprint. He is currently the only landscaper who operates an electric cargo bike. 
Landscape Services is planning to replace most hand-held gasoline-powered equipment with electric equipment over time and has already acquired many pieces. Lee says electric equipment is the future for the department. Switching the entire landscape department to electric equipment will eliminate 3,000 pounds of carbon emissions over the next five years and decrease noise pollution by 20 decibels, according to the cost-benefit analysis of Lee's cohort. "It made me feel like we were really making an impact," Lee says.
Lee rides an electric bike every day, whether it's 100 or 20 degrees outside, whether it's raining or sunny. He bikes to work in the morning, bikes at work on the electric cargo bike, then bikes home every night, rarely stepping foot in his car. "I wanted to prove the concept," Lee says. "I'm not just going to use it on bright, shiny spring days. I'm using it every single day for the real work."