Four glass panes flank the Peyton Yates Family Bridge at the Gary L. Thomas Energy Engineering Building (GLT). They act as windows, bringing the campus closer to the clear, powder-blue Texas sky. Two squares stand tall atop the bridge reaching upward, and two descend toward Speedway and East 24th Street. The structures bookend the bridge and use diagonal mirrors to dissolve the stark concrete barrier between pedestrians above and below. The artwork is titled "C-010106" and is the newest addition to The University of Texas at Austin's public art program, Landmarks. 
New York City-based artist Sarah Oppenheimer designed and created UT's latest architecturally inspired landmark. According to Landmarks' webpage, Oppenheimer is known for producing works of art that alter the environment and shift our frame of spatial reference. Now, students, faculty and staff can interact with "C-010106" en route to and from their offices, classes and labs. 
In April 2022, Landmarks installed the new structure, and the department revealed "C-010106" to the public in July. Andrée Bober, the founding director and curator of Landmarks, says the commissioning process began in 2017. The Landmarks staff gave Oppenheimer complete creative freedom for the assignment. 
"(Oppenheimer is an) artist who works in the engineering realm. She researches architectural materials and functions of space," Bober says. "(Sarah) seemed like a very apt choice for the Cockrell School of Engineering and the activities between the Engineering Education and Research Center and the Energy Engineering Building."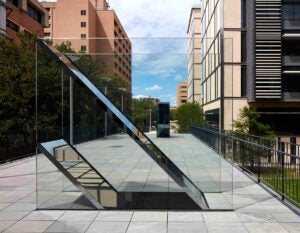 Oppenheimer is a prolific artist whose work can be found around the country and overseas. Her project, "W-120301," displayed at the Baltimore Museum of Art, uses aluminum and reflective glass to spark exchanges between visitors on two adjacent floors, much like "C-010106" does. "S-337473" is a piece she crafted in 2017 for the Wexner Center for the Arts in Columbus, Ohio. It consists of two glass-and-metal structures that visitors can manually rotate and manipulate. In 2020, Oppenheimer showcased several pieces collectively named "N-01" at Kunstmuseum Thun in Switzerland. "N-01" also encouraged hands-on interaction, as viewers turned, pushed and pulled various aluminum, glass and steel structures representing doors, windows and columns.  
"One thing that interested Sarah was this idea of a bridge as a connector between spaces," Bober says." She also played with the expectations a person naturally has when they cross the bridge." 
The glass panes create a shift, interrupting the regular stream of traffic and movement. They encourage pedestrians to slow down, altering their usual trajectory between buildings. "The idea was to create something unexpected that could cause a different kind of engagement, both with the environment and with others within that environment," Bober says. 
"(The reflective glass of "C-010106") functions formally as a device that enables many different views or perspectives that you wouldn't have otherwise," Bober says. "But metaphorically, I think they also suggest self-reflection."
Kevin Alter, Sid W. Richardson Centennial Professor in Architecture, says  "C-010106" provides viewers with an enhanced awareness of their environment. He says the piece is not only visually appealing but also intellectually engaging.
"You're aware of people walking under the bridge when you're on top of it because of the reflections and you're aware of things you see through the glass planes, as well as the reflections of yourself and your circumstances," Alter says. "I find it to be a fascinating and incredibly interesting experience."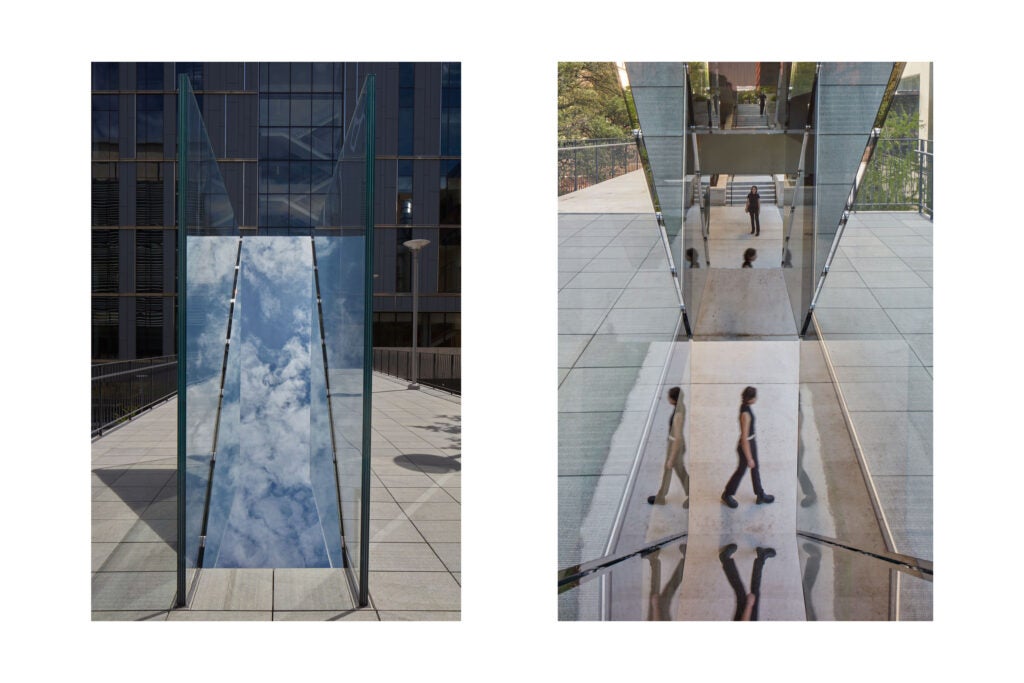 Nisa Barger, Landmarks' assistant director for collections, says the glass structure of "C-010106" stands out as the first of its kind. Installing this work posed unique challenges. The design's fragility and the bridge's tight space made installation both risky and anxiety-provoking. Sheehy Fine Art Services, an Austin art installation company, installed the work by lifting pieces into the air and placing them on the bridge. While hazardous, Barger says this process occurred without any significant incident.
"C-010106" redefines what kind of art UT will contract for future installations. Landmarks' first glass commission focuses on the interaction and viewpoint of pedestrians.
"It is a piece that is intended to be interacted with in a certain way. That is somewhat different than all the public artwork we have on campus," Barger says. "It's really about the view. The perspective of the observer completes the structure conceptually."
Bober says public art pieces such as "C-010106," allow UT students and staff of all interests and academic disciplines to engage with the arts and culture routinely.
"Sarah Oppenheimer is creating highly sought-after work. Having this ambitious piece on our campus inserts (UT) into a dialogue with major cultural trends around the globe."