A wave of burnt orange floods Bevo Blvd. as football fans head toward the gates of Darrell K Royal-Texas Memorial Stadium. Along the way, some fans drop out and set up camp under clusters of tents, emitting the rich aromas of chili, barbecue, and cold beer.
Longhorns signal excitement and camaraderie by flashing the ubiquitous Hook 'em! hand signal and big smiles. It's game day, and the kickoff to an exciting year of UT sports.  
Among the masses of fans lie some of The University of Texas at Austin's staff and faculty, who possess a deep love for the school's athletics. Regardless of the sport, Julie Gillespie, Richard Reddick and Matt Bowers exude superfan energy and offer unwavering support to student athletes.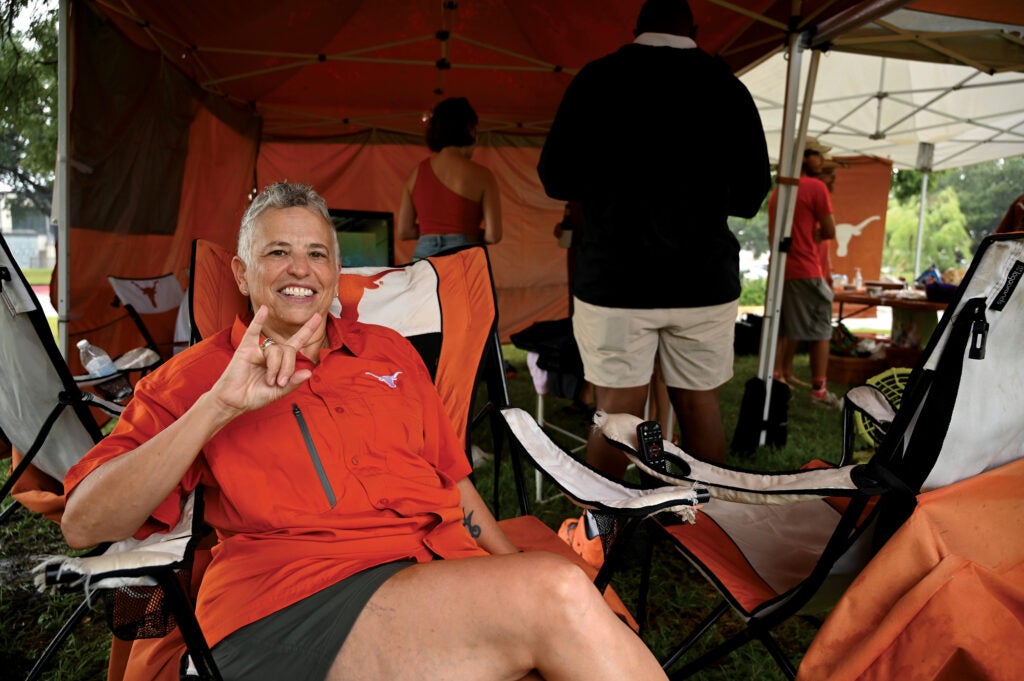 JULIE GILLESPIE
Gillespie's lucky color is burnt orange. Her home closet resembles a University Co-op clothing rack. She says when she travels, she picks out a clothing item with the iconic UT hue for reassurance. 
A training specialist III in the Office of the Associate Vice President for Human Resources, Gillespie graduated from UT in 1985 and immediately began a 28-year career as a UT Police Department captain. When she was a sophomore in college, she bought a women's basketball season ticket and never looked back. 
An admirer of all sports with an unmatched sense of school pride, Gillespie eats, sleeps and breathes Texas athletics. Her devotion is evident not only in her clothes, but also in her vehicles and home decor. 
"(Being a Longhorn fan) is totally my identity," Gillespie says. "I have a Longhorn tattoo, I used to drive a burnt orange jeep and motorcycle, and my license plates are Longhorn plates."
Some of Gillespie's prized possessions include an autographed 1996 Southwest Conference football and a Big 12 championship football from that same year, also signed by the team. Additionally, she has a football autographed by the 1998-2013 head coach, Mack Brown, and a basketball signed by one of her heroes, the 1976-2007 women's basketball coach, Judy Conradt. 
A wave of nerves and excitement overcome Gillespie several days before a game, especially if it's football. Gillespie says her superstitions have moved her to do things such as turn her shirt inside out, in an effort to help her team emerge victorious. 
"I get so excited. I threw a shoe at the ground one game," Gillespie says. "If it's an away game, I'll change shirts during the game if we're not doing well. If I'm at the game, I move around in my seat or I've been known to sit out in the aisle. … I'll try anything."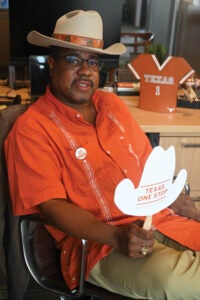 RICHARD REDDICK
Reddick follows a strict personal rule when attending basketball and football games: Always stay until the end. Reddick, senior vice provost for curriculum and enrollment, and dean of undergraduate studies designate, graduated from UT in 1995 and joined the faculty in 2007, after receiving his doctorate from Harvard. 
"To me, being a fan is being invested in the life cycle of the students, not just when they're on the field," Reddick says. "(It's) helping them do well academically, wishing them luck in their classes, and taking the time to work with them if they need extra help." 
The gateway to Reddick's UT sports fandom was the 1986 undefeated women's basketball team. His connection with football began during his time in the Silver Spurs — a student organization that looks after and transports Bevo during football games. His custom Silver Spurs cowboy hat sits on his desk, adorned with a shining silver longhorn on a burnt orange hatband.
On game days, Reddick is either at home whipping up wings and queso with the TV on, or interacting with fellow Texas Exes and colleagues at tailgates. After the game, he makes sure to show respect to players, coaches, and trainers through positive messages. 
"The (game-day) ritual I have is reaching out to the people I know (on teams) and telling them, 'Good job,'" Reddick says. "Sometimes I tell them, 'Hey, I know that was a tough one, but thanks for representing the university so well.'"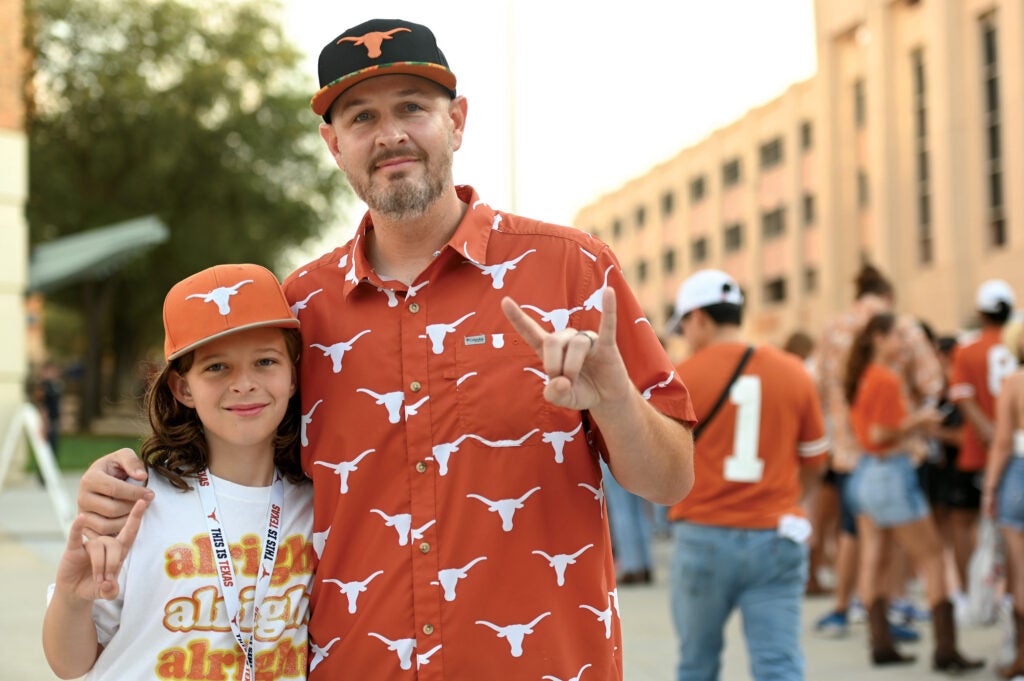 MATT BOWERS
The well-being of student athletes is a top priority for Matt Bowers, program director and associate professor of instruction for the sport management and physical culture and sport studies programs. A fan of all UT sports for 13 years, Bowers received his doctorate at UT in 2011. 
Unlike other superfans, Bowers maintains an emotionally detached mindset on the outcome of a game. While he hopes for victories, he says he mainly worries about the mental and physical health of his students.  
"I find myself (thinking), 'I hope they're doing well,'" Bowers says. "I'm like a parent in some ways, watching and wanting them to be successful and happy."
Bowers prefers a more laid-back football game day at home with family. He starts the day by preparing a big breakfast, then heads to one of his son's flag football games, and returns home to the Longhorns playing on the TV. 
"(People) connect with friends and family through the rituals of fall weekends," Bowers says. "I think that's why football works so well in some ways." 
Though Bowers only occasionally attends tailgates, he says he loves the sights, smells, and sounds of the game-day atmosphere. Bowers and his son attended the UT-Alabama game  on Sept. 10. He was invited to watch from the side of the field as an honorary faculty guest coach. Bowers attends at least one game of each sport throughout the fall and spring. 
The Athletics program allows individuals to be part of something bigger than themselves, he says. His Longhorn fandom is rooted in having a connection with others. 
"When I'm wearing (a Longhorn polo), it says something about me to you, to myself, to others, and that's sort of the power of sports," Bowers says. "It's something that has the potential to unite us in ways that we otherwise wouldn't necessarily have."