Three illustrations sit above English professor Edward Carey's desk. The drawings from his book "The Iremonger Trilogy" exhibit characters who undergo plot twists and tribulations. The two characters Clod Iremonger and Lucy Pennant become more battered and beaten as the illustrations evolve through Carey's stylistic blend of romanticism, rococo and German expressionism. These characters came into existence as sculptures with an urban miniature of the fictitious city of Heaps lying at their feet. This is how most of Carey's books begin — with artistic renderings in various media that capture characters and scenes before a single word is written.
"I've always drawn my characters as a way of getting to know them first. I feel like if I can't see them, then I don't quite know who they are. And it's also a great way (to avoid) writing," he says laughing.
Since his first novel, Carey knew illustrations would be an important part of his storytelling. Now, seven books later, "Plagues and Pencils: A Year of Pandemic Sketches" is an amalgamation of Carey's illustrations. The art is born from a creative process that integrates sketches from his stream of consciousness with journal-fashioned literature detailing his journey inside the COVID-19 pandemic.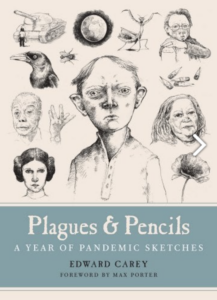 The book came about by accident. When the pandemic began, Carey drew every day, capturing his personal treasures and interests in unintentionally wistful sketches. Those etchings include nature, authors, writers, people who have died, and occasional notes and clips of the year in politics to timestamp his journey of making "Plagues and Pencils."
"I was writing (another) book at the time, which was really bleak," he says. "It was just too much, and so I had to do something different. You know how it was. We were all stuck in place."
Carey posted his drawings to Twitter, a habit that preceded the pandemic. One of the images was a face of a determined young boy. Those who know Carey called it a self-portrait of his younger self. He has a defiant look in his eyes, daring the onlookers to challenge him. After posting it, Carey thought, "Oh, I can do this every day. Why not?"
Like many people, Carey thought the pandemic would be over in a matter of months. That was not the case, and the drawings accumulated. His social media followers began submitting requests in the threads below his sketches. Carey first responded with drawings of plague doctors from history. Next he indulged in sketches of birds he loved, then great English writers such as John Keats and Charlotte Brontë, who reminded him of home.
He eventually took requests from online followers for sketches of everyday people and pets.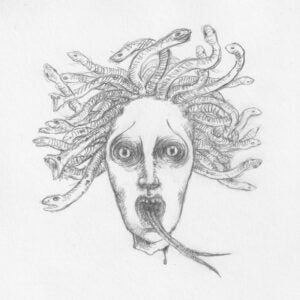 Carey claims that he becomes "miserable to live with" if he is not making something. "There's always the need to do something, to create something, to show proof of oneself somehow. (I am) always looking for another story to tell," he says.
By the time "Plagues and Pencils" came out in September, Carey was already working through line edits for his next book, set to be released in October. The book focuses on an early 20th-century English theater in Carey's hometown of Norwich, England. Carey's love for theater weaves throughout his life and his writing. After graduating from the University of Hull, he wrote plays for audiences in Malaysia, Romania and Lithuania. He says he still longs to be back in theater.
After Norwich, Carey set out to follow the family tradition of joining the Royal Navy — that road hit a dead end quickly and instead, he found the arts. He lived in the United Kingdom until travels took him to different parts of Europe and the U.S. While on the road, Carey worked as a playwright, a novelist, and a teacher for the University of Iowa and the Michener Center for Writers at UT.
His artistic style is inspired by the works of 18th-century English satirist William Hogarth and Romantic Movement poet, printmaker and painter William Blake. For example, Carey's "Day 5-Samuel Pepys" and "Day 4-Margaret Cat" resemble Hogarth's series of prints "A Harlot's Progress," a cautionary tale of a character named Moll Hackabout who journey's to a fatal end. Hogarth's prints contain the same sly look of desperation and mischief frequently seen in Carey's drawings.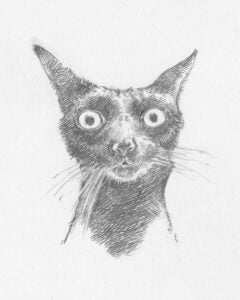 Carey explains that the England of Hogarth's time often pushed writers and artists to create "funny, but very dark and melancholy and furious" renditions of life in London. In adulthood, Carey emulates the mood Hogarth created in his drawings.
Carey's "Day 6-King Lear" and "Day 12-Medusa" see influences from Blake's works such as "Nebuchadnezzar."  This print depicts the infamous, brutal king from the Old Testament at the end of his plight, having descended  into madness and animalistic tendencies. Both Carey and Blake tell the struggles of their characters through the depiction of eyes — a unique capture of soul and human disposition with pen and paper or ink block and paper.
Although his art has somber tones, Carey says it's unintentional. "That's how they come out. You know, no matter how jolly I might want them to be or pretty, they turn slightly grotesque," he says.
Carey advises other aspiring writers and illustrators to "just do it." He believes creative professionals interested in literature and art have to exercise their writing and drawing muscles while cultivating extraordinary ambition. Even then, immediate success is seldom the name of the game.
"It will take a long time, probably. We have many very wonderful MFA (Master of Fine Arts) students. … They graduate, and sometimes it takes three, four, five years, sometimes even longer before they start publishing books."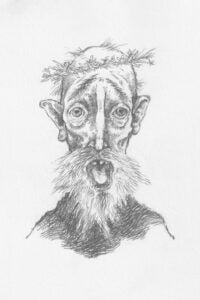 Teaching in the College of Liberal Arts at UT inspires Carey to evolve his own writing and drawing. His students help him see things in ways that he never would. He says there is something refreshing about concerning himself with others' works instead of focusing on his own.
"I've done this class (on fairy tales) many times, but it's always different each time. This new lot are finding new (details and ideas) in the tales that is so exciting and strange," Carey says.
The last piece of advice he has is to not take yourself too seriously but to take the work very seriously.
Carey recalls a quote from English writer Jeanette Winterson: "You have to show up for work, or otherwise it won't happen."
"It's absolutely true," he says. "If you don't — forget it. If you're not willing to put in the time, then just don't bother."
Recommend a book at pitch@texasconnect.utexas.edu.