UT sophomore Sonali Reddy and senior Malvika Patil conclude their co-led campus tour in front of the UT Tower. Before they leave the visiting group of high school students and their families, Patil talks about the influence that UT has had on her personal life. Her father, Satish Patil, was a lecturer on operations management in UT's Cockrell School of Engineering. When she was a little girl, he painted the Tower's inscription on her bedroom wall: "Ye shall know the truth and the truth shall make you free." She says that the day she received her acceptance letter, her father cried. Reddy and Patil answered final questions, took photos of the visitors in front of the Tower, and said their goodbyes to the tour group. 
Reddy and Patil are two of the 65 tour guides who are meticulously trained and looked after by the director of the Covert Family Admissions Welcome Center, Javier Garcia. During each calendar year, the center leads 18,000 people on the Guides of Texas tours. Families and potential students gather to walk the campus, see where students live and look inside a few of the state-of-the-art buildings. In addition to the campus tours, the guides and admissions team create unique and informative presentations for Texas Preview and UT Austin Interest Sessions. Garcia finds purpose in training his cohort on how to best support incoming freshman and transfer students as they make one of the biggest decisions of their lives. 
Garcia, 37, says his upbringing in Refugio, Texas orbited around community, service and hospitality. As a child, he helped his grandfather mow lawns for the family landscaping business. His grandfather taught him the importance of introducing himself, making eye contact, and greeting new homeowners and customers with a firm, confident handshake and gentle smile. Garcia's mother worked as a teacher and his father as a minister. During his summer breaks, he would go on mission trips to help surrounding communities. To this day, he remains motivated by asking himself how he can best serve his community. 
As he neared the end of high school, Garcia decided to attend Texas State University. Soon after his arrival as a freshman in 2004, the university became his new home, and he opted to become a tour guide. At the time, Texas State's Hispanic enrollment was less than 30% of the student population. Garcia felt that he could be a good resource for other minority students, especially those from small South Texas towns like his own. As an undergraduate, he quickly became a recognizable beacon to parents and students. His personal narrative eased families' anxieties about success, and he showed parents how their kids could find a sense of belonging after they left home.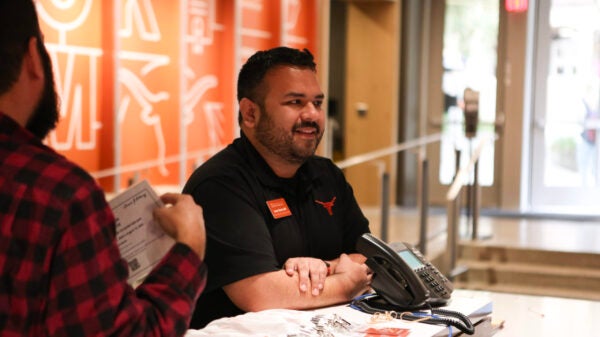 On his first solo tour at Texas State, Garcia scanned the crowd of eager families. He felt excited and nervous. It was his turn to lead on his own — without another guide to lean on, or a mentor's supervision. When his first solo tour concluded at the Texas State Welcome Center, Garcia felt a rush of accomplishment and pride. He was confident that he had imparted knowledge to future freshmen that would help them choose their next step in life with authority.
"When the parents saw somebody (like me) that was like their child, and they saw that I was succeeding and I was thriving, I could see their attitude or outlook change a little bit," he says.
Admissions counselors often see tours as their unique magnum opus — part knowledge, part promotion and part visualization. Tour guides need to grab the audience's attention, pique their interest and evoke a sense of belonging before they send them off at the end of the tour. The pictures they create for students include rigorous academics, campus culture, athletic opportunities, creative outlets and niche organizations. If students are interested in spirit organizations, they can join clubs such as Texas Fuego, dive into music journalism with Afterglow ATX, get ready for their future with pre-professional groups such as the American Chemical Society, or join cultural organizations such as the Arab Students Association. 
"A big part of the UT experience is based on how individualized it is. So even though we're a large institution, everybody has their own beauty, experience and story," Garcia says. 
Every semester, tour guides are retrained and tested to ensure fluency in information about admission requirements, housing applications, student-to-teacher ratios, college majors and the UT enrollment numbers. The newest student leaders at the welcome center start out shadowing other tour guides before venturing out on their own.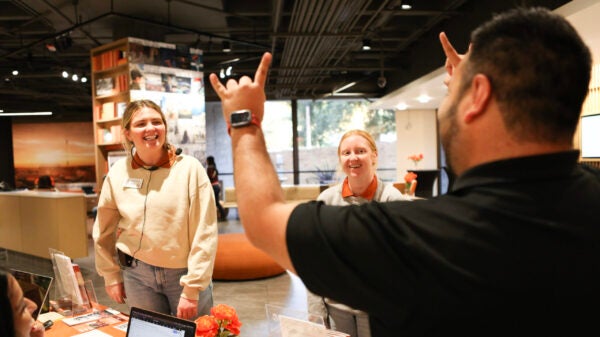 Noemi Gomez, the former program coordinator of the welcome center and former co-worker of Garcia, remembers that Garcia's first day on the job also marked the department's move next to the Perry-Castañeda Library. She recalls how eager Garcia was to get involved and how hands-on his approach was. He wanted to learn everything he could about the admissions program at his new posting. 
"I could definitely tell that he wanted to be here because this is something that he's passionate about, but also that it was really, really important to him to know exactly how his staff functioned and what made his staff his staff," Gomez says.
As Gomez passed the torch to Rudy Moya, the current assistant director of the welcome center, the lively environment and the friendships stayed with her. 
"It was a great environment that I was a part of," Gomez says. "They motivated me to be better because they did such incredible things, and they were getting awards, and they started so many things on campus. It motivated me to be better too."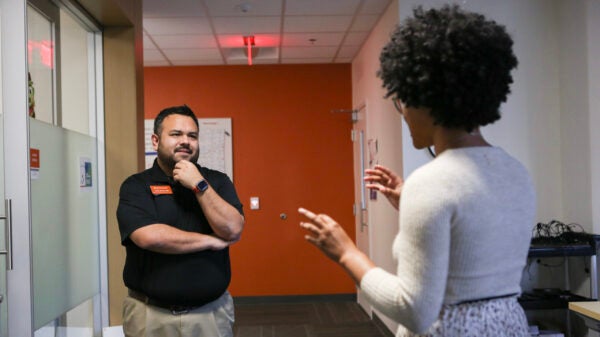 Gomez still sees Garcia as her mentor at her new job as a recruiter at the Moody College of Communication. On her last day at the welcome center, it was difficult to say goodbye to her colleagues and co-workers. Gomez sneaked a picture of her and Garcia onto his office desk as a goodbye gift. 
"On Monday when he came (into the office) he was like, 'Thanks for making me cry!'" Gomez says laughing. "It really does take a special person to care about students (like he does)." 
After many years of working in admissions at Texas State, Rice University and now UT, Garcia realizes the impact that he and his team can have on a student's collegiate and life decisions. He embodies a sense of belonging at UT, and he believes in what UT has to offer academically and personally for incoming students. 
"When you are in higher education in the state of Texas, there are certain pinnacle schools that you want to work for, and UT is definitely one of those schools," Garcia says. "If you have the opportunity to work here, then you take it."