A sweeping archive at the Nettie Lee Benson Latin American Collection sits meticulously curated at the eastern perimeter of the Forty Acres. Melissa Guy, lead librarian and director, recalls two resources that are her favorites out of the entire catalog. 
Mexican American artist Carmen Lomas Garza captivates Guy with her illuminating colors and depictions of social gatherings. Even though "Lotería" from 1972 strays from Garza's typical colorful style, it's one of Guy's favorites because it's fun to look at and approachable — especially since it depicts ordinary people doing ordinary things. 
When Guy shares her second favorite item, she reaches for a box of tissues. It is an original manuscript of "Rayuela" from the revered Argentine writer Julio Cortázar. The stream-of-consciousness novel, described by Guy as "his masterpiece," evokes an emotional response from most readers. The pile of tissues grows as more rare materials are pulled from the stacks. At the Benson, people get to interact with traces of culture and heritage that span centuries, touching many generations. 
And while Guy is proud of the extensive collection, these items serve a greater purpose. Her primary goal is to instill pride among younger Latino people in Austin and beyond.
"In Spanish, you'd say 'no somos coleccionistas.' We're not just collectors for the sake of collecting. We don't hoard this stuff just for preservation," Guy says.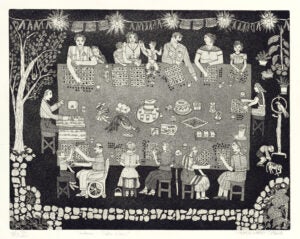 Adjacent to the LBJ School of Public Affairs, this unassuming concrete building hosts the most extensive university collection of Latin American materials in the U.S. The Benson began gathering archival anthropological, biographical and historical literature in 1921. Today the library also safeguards artwork, film and documents from both past and present. Outside of the library collection, one of the primary aims of Guy and colleague Daniel Arbino, head of collection development, is intergenerational outreach — they wish to facilitate a conversation between the old and traditional, and the new and innovative. 
Guy and Arbino strive to reintegrate historical legacies into modern times by hosting events such as ¡A Viva Voz!, held in early April, where Arbino scouts and invites Hispanic creatives to speak about their work. They also organize tours during local conferences, such as the Meeting of International Historians of Mexico, held twice annually. 
"We never wanted it to be like an academic conversation. It should be a celebration that the community comes out and enjoys without having to worry about theory or something like that," Arbino says. 
Past speakers include Ana Castillo, a Chicana poet, essayist, playwright and novelist, who in 2017 read from her personal collection, which spans nearly a half-century. Her work pioneers modern feminist literature. Last year, Hector Rodriguez, a Texas native from Eagle Pass and a Dallas schoolteacher, presented his comic book "El Peso Hero."
"We believe there is value in exposing students to various materials," Guy says. "For some students, it will be knowing more about their culture, and for (other) students, it will be the first time that they experience (their culture), … their own histories preserved and celebrated." 
Since Arbino became the coordinator for ¡A Viva Voz!, more faculty and students have attended the event. Campus partnerships and co-sponsorships grew from the event too. This year, he passes the torch. Arbino believes the incoming coordinator for ¡A Viva Voz!, Maribel Falcón, will bring a new, more artistic vision to the event. In addition, Arbino believes Falcón's fresh eyes and contemporary marketing skills, gained through her experience with the Teresa Lozano Long Institute of Latin American Studies, will improve the event's outreach efforts. 
"These collections are the building blocks of history and sociology and can tell a more complex and full story of what we would consider the Texas experience, the U.S. experience (and) the Mexican experience," Guy says.  
As the Benson's collection expands, Arbino says he tries to buy books that challenge theories and ideologies written in older texts. As Guy and Arbino think about the next century of the collection, their goals include expanding the LGBTQ section, the catalog of works written by women, books that capture and detail the African diaspora to Latin America, and historical items that hold Indigenous records and languages.
 "(The future) will be continuing to think: What voices are we adding to the archive? Because if you're not thinking about diversity in those spaces, then whose story are you telling? Whose history?" Guy says. "It's about knowledge, the production of knowledge, and how it is put together."