Lisa Thompson and Richard Reddick sit across from each other in a small recording studio at the KUT Radio newsroom. Reddick's shirt reads "Black Austin Matters," the title of one of two faculty-hosted podcasts broadcasted from Austin's NPR station. Thompson, Reddick and producer Miles Bloxson sit and banter back and forth, exchanging jokes and updating one another on their lives, all while preparing the final episode of season one. The conversation comes to a natural end, and the bright blue "ON AIR" sign lights up. The studio falls silent and they click record.
"Black Austin Matters" focuses on the Black community in and around Central Texas. The podcast, co-created and co-hosted by Thompson and Reddick, premiered in 2022. Now the duo prepares for the release of  Season Two on March 1. This time, Thompson and Reddick want to take the conversations from the first 14 episodes even deeper.
"The first season for me was about being a presence," Reddick says. "I think a sense of permanence is what we are working towards."
Reddick, senior vice provost for curriculum and enrollment and dean of the School of Undergraduate Studies, first came up with the idea for the podcast in 2020. He saw an article about a new mural painted on Congress Avenue with the words "Black Austin Matters." In reaction he tweeted, "I think it's good for us to talk about what being #BlackInATX is actually like…" He tagged friends and colleagues, including Thompson. 
"I just woke up one morning and saw a picture of (Congress Avenue) and asked 'To whom does Black Austin matter?'" Reddick says. "I thought we should have a conversation about this."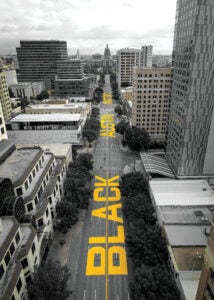 The next day, Thompson, a playwright and professor in the Department of African and African Diaspora Studies, responded by pitching the idea of a podcast. This resulted in a partnership with KUT and KUTX Studios. 
"Literally two days later, we were getting equipment and stuff like that," Reddick says. "It happened really quickly, and really it's Lisa's genius."
The podcast invites monthly guests from all walks of life to talk about what matters to them. Guests don't have to lead organizations or hold accolades to be featured. The goal is to capture neighbors and people who never thought of being on a podcast, Reddick says. The show also focuses on the guests' and hosts' Blackness within their own communities. 
"Black Austin Matters" goes beyond problems that Black people face, Thompson says. It delves deeper into personal lives and asks questions that don't just pertain to Blackness but also deal with everyday life. It tells stories that are often overlooked, such as how Wilhelmina and Exalton Delco met in college and how activist Chas Moore is a fan of "Frasier."
"It's about getting three-dimensionality of Black life, which includes things that are challenging but does not focus on them," Thompson says.  
The show features guests of different ages, occupations and upbringings. "Black Austin Matters" is for anyone who wants to learn about their community and the people who share it. Whether they live in Austin or not, viewers from any background can listen to how Black Austinites experience their city and the community around them. 
"Folks, particularly those who are not African American, can feel like this is a safe space to learn more about your neighbors," Thompson says. "The show gives (people) a chance to share a level of vulnerability."
As they prepare for their second season, Reddick and Thompson plan to bring on guests they didn't have time to feature in Season One. Thompson says they plan to show a diverse, broad and engaging Austin citizenry. 
"We laid the groundwork so that when something does happen that is unfortunate, (people) have a library of voices that they can listen to," Thompson says. "(People) will come to it with an understanding that is more complex."
Season Two will also include recordings and interviews from streets and public places around Austin. Thompson and Reddick want to capture new environments that showcase unique stories and experiences.