Welcome to "From the Butler School," the weekly program featuring performances from the students and faculty of the Sarah and Ernest Butler School of Music at The University of Texas at Austin. I'm your host Ryan Kelly. Thanks so much for joining me tonight.
Every Monday at 9 p.m., Ryan Kelly hosts an evening program on Austin's classical music radio station, KMFA-FM 89.5. He narrates with the calm coolness of NPR's iconic hosts while maintaining playfulness. There's a bit of free-form from his scripts as he shares pieces that speak to his soul.
In his early childhood, Kelly often found himself making "corny" mixtapes of his favorite classical scores. He would comically narrate, pretending to be a DJ prone to mispronouncing names such as Russian composer Sergei Prokofiev before playing his piece "Peter and the Wolf." His show today has matured a bit from the fun, lighthearted mixtapes of his youth.
"There was an early childhood fascination with (music curation)," Kelly says. "Gosh, I was definitely a musical kid. I did so many things. I sang in a church choir, I took piano lessons, I took violin for a year, I played clarinet all through middle and high school, and later in high school I became a percussionist."
Growing up in Washington, D.C., music was never in short supply. Whether it was the National Symphony Orchestra performances or just the local marching band at a high school football game, Kelly was always engrossed in music. And from almost the beginning, Kelly knew he would become a conductor. Today he works as the associate director of bands and associate director of the Butler School of Music.
Kelly didn't will his way into radio — he more so stumbled into the weekly program on KMFA. It began with a fun gig to guest- host a pledge drive shortly after meeting the station's director of broadcasting content. With no radio experience, Kelly was wary but gave it a shot anyway. After reassurances that the pledge was pretaped and not live, Kelly felt better knowing that any curse word slips could be edited out.
He ended up co-hosting the drive with a good friend, who teased that the show was actually Kelly's audition to DJ. He brushed off the idea with a "whatever," but KMFA later invited him back to guest-host for the Butler School program. A month later, the job was his.
"From the beginning, I had fun with it," Kelly says. "(It) ended up being a really cool creative outlet for me, getting to talk about and play beautiful music."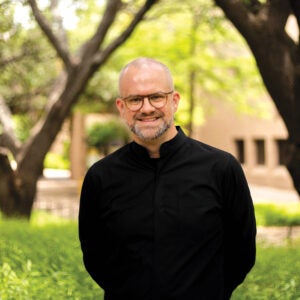 Kelly has access to the hundreds of performance recordings that happen each year, which includes large ensembles or student and faculty recitals. He scours through these recordings during work hours, lands on the ones he wants to use, and then contacts the performer or conductor about putting the material on air.
Once he gains permission, Kelly makes a list of all the music he plans to feature. Next, he starts scripting and piecing together his program, making sure the show wraps at exactly 59 minutes.
A recent episode aired a flashback to the UT Symphony Orchestra's fall 2019 performance of a movement from George Whitefield Chadwick's "Symphonic Sketches."
The orchestra launches into the piece with a punch of brass instruments coming in at once. They continue with fast, direct notes layered with beautiful, clean runs from the flutes underneath that shine in every brief pause from the brass. In the background, the percussion seems to be using almost every instrument to add to the texture: tambourine, triangle, snare. The sonic undulations fit the title, "Jubilee."
"You try to plan how (the audience is) going to listen to that music in a way that's going to be really impactful … or that's going to make them motivated to say, 'Oh, I want to listen to this next week,' or better yet, 'I want to go to a performance at UT.'"
With the faculty giving recitals once or twice a semester — often at the Bates Recital Hall for free or $10 — Kelly does his part to feature them, shedding light on what live performances are available for people to see. Sandy Yamamoto, who appears on the show from time to time, is an associate professor of practice in violin performance. She frequently holds recitals with students and colleagues in a series titled "Sandy Yamamoto and Friends."
Although she is used to her performances being publicized, Yamamoto has been reconnected with old friends from her childhood through Kelly's show.
"I reconnected with someone that I was in a youth orchestra with when I was like 10 years old back in North Carolina. I had no idea this woman was living in Austin, and she was like, 'Oh, my gosh, I heard you, and I'm going to come to your next concert.' And then we got to actually meet afterward," Yamamoto says.
Broadcasting staff recitals showcases the talent on campus and shines a spotlight on the Butler School. As things quieted during the pandemic, so did the material available to Kelly for his show. This left him with very few options. He disliked the idea of rerunning old segments, especially with no definitive end date for the pandemic. Instead, he got creative and introduced a showcase that drew upon the basics and brought the music composition faculty to the forefront.
Kelly is always thinking of ways to do more in the future. He evaluates his program and asks whether he's featuring different groups enough between large ensembles and the many individual performers at UT. He is brainstorming more ways to bring students on air. He says that while the show does a great job spotlighting what it is meant to, he is searching for ways to make the program even better and to help the Butler School draw a crowd.
"The classical music scene in Austin isn't all that big," Kelly says. "There's some great groups like Austin Opera, Austin Symphony, but it's a pretty small circle of people, so we all try to be nice to each other and be friends and collaborate a lot."