UT prides itself on housing countless archives, collections and heirlooms. Some are carefully stored in dimly lit and climate-controlled rooms, preserved by caretakers; others are housed in classrooms, ready to serve eager students in their academic endeavors. And some are proudly on display like prized jewels. UT is full of hidden treasures — one just needs to know where to look.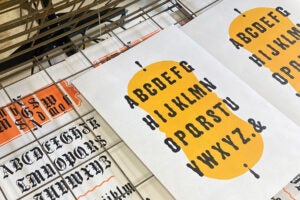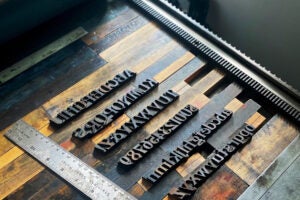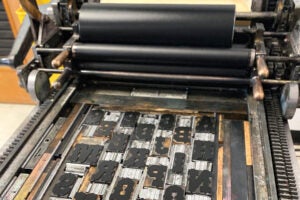 The Rob Roy Kelly American Wood Type Collection
In the sun-soaked Design Lab of the Art Building, students sprawl at wooden tables, sketching, carving and perfecting their projects. The cranks and squeaks of the decades-old printing presses in the back echo throughout the room. Next to dozens of design books and handwritten notes and doodles from students, 166 labeled cardboard boxes span an entire wall. Inside each box are centuries-old wood typeface blocks stretching from De Vinne Italic to Tuscan Egyptian.
The Rob Roy Kelly American Wood Type Collection archives thousands of vintage blocks used for letterpress beginning in the 1800s. They were collected and cataloged by design historian and scholar Robert Kelly for the Minneapolis College of Art and Design in the 1950s.
Kelly began his efforts when he saw this type being thrown in the trash as new technology, such as dot matrix and laser printing, pushed its way into the spotlight. He wanted to preserve this history and create a resource to educate his students. He eventually sold the collection to the Museum of Modern Art in New York City, which later sold it to the Ransom Center, where it stayed through the early 1970s. In the '90s, the collection was given to the School of Design and Creative Technologies in the College of Fine Arts, where it is now used by students almost daily.
"A big part of my work has been to connect the dots," says Henry Smith, fabrication manager and caretaker of the collection. "And that makes it easy for students to use this collection and keep it relevant. Because it's so special that we get to have this here. We're very lucky to be able to be hands-on with artifacts like this."