The Great Hall at the Texas Memorial Museum is empty, save for the 36-foot-wide flying reptile Quetzalcoatlus hanging overhead and the scaffolding lining the high ceilings. The large collection of million-year-old fossils and 84-year-old taxidermied critters native to Texas appear to be hibernating — alone and asleep under tarps to protect them from dripping paint. On the fourth floor, an exhibit on evolution and another on buzzsaw sharks now stand vacant, waiting to see what the future holds.
The museum, which opened in 1939, closed temporarily in March of 2022 after struggling with state budget cuts and staff shortages. Management decided to embrace the change and used this extended closure to give the museum some much-needed TLC and overhaul the guest experience to enhance future attendance.
Interim Managing Director Carolyn Connerat came out of retirement to spearhead this effort at the university's request.
"It was a great opportunity for the College of Natural Sciences and the university to take a step back and say, 'How are we going to rethink what this museum can be as we move forward?'" Connerat says. "Now's the opportunity, as long as it's closed, to do the kind of renovations, repair and maintenance that hasn't been done in decades."
Almost all the exhibits are undergoing a face-lift with updated signs and new digital interfaces for a more contemporary engagement. However, all the fossils and Texas wildlife dioramas, many of which have been around since the Texas Centennial and the birth of the museum, will remain in their original form.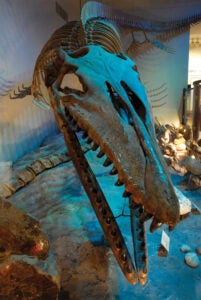 The fourth floor, which has historically been used for large rotating features, will now focus on the future. Achievements made by the College of Natural Sciences and other university departments will be on display to showcase progress and wonders still being discovered.
"We haven't had a chance to do any significant updates (to the exhibits) in a very long time," Associate Director Pamela Owen says. "Just bringing something new (is so exciting) because from those new exhibits, then we can build new programs and new experiences. And then with the new staff, it's just complete exponential growth in activity and opportunity for all kinds of learning here."
The renovations will also focus on some physical aspects of the building. Walls will be painted, the original curtains in the Great Hall will be replaced with shades, and the Texas limestone and French marble that make up the building will be washed and returned to their original cream and rouge colors. The museum staff is making sure to preserve the building's history by keeping the art deco flairs that make it unique and add to the stories the museum tells.
"The idea (is) that we are really bringing the building back to its glory," Connerat says. "So having the building be repainted with new lighting that's going to show off what's here. Seems like it could be boring, but it makes a difference for people when they're walking around to see the love and care that's been put into it."